Liqin Zhao receives R01 Grant
---
Dr. Liqin Zhao, Associate Professor in the Pharmacology & Toxicology Department together with Dr. Teruna Siahaan, Professor of Pharmaceutical Chemistry, received an RO1 grant titled "Reshaping ApoE4 and Alzheimer's Brains with ApoE2."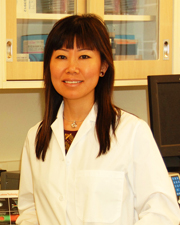 The grant from the National Institutes Health is funded for $2,931,935 and runs from January 2022 to November 2026.
This project seeks to translate the protective effects of ApoE2 into a therapeutic approach to help the brain stave off Alzheimer's Disease. Humans possess three major genetic variants of apolipoprotein E (ApoE)—ApoE2, ApoE3, and ApoE4—that confer differential susceptibility to AD. ApoE4 is presently established as the most potent genetic risk factor for the late-onset sporadic form of AD, with over 65% of AD patients carrying at least one copy of ApoE4, whereas ApoE2 is recognized as an exceptionally protective genotype against AD. Historically the ApoE field has focused mainly on ApoE4, whereas ApoE2 has been largely ignored. Dr. Zhao's work on the protective mechanisms associated with the ApoE2 genotype has positioned them to advance these findings into a novel therapeutic opportunity for AD.
The overall goals of the project are to establish the plausibility of targeting brain metabolic resilience as a disease-modifying strategy and generate proof of concept as to whether a ApoE2-based protein therapy can potentially be developed into an effective and safe intervention for Alzheimer's Disease.