Thank you for your interest in supporting the Department of Pharmacology & Toxicology. Private support allows the department to provide resources for students, establish research seminars, and continue the excellence you have come to expect from our department. Your support, regardless of size, can make a profound impact. Even small amounts given over time can accumulate to create substantial resources for the department.
You are invited to join the Deans Club at the University of Kansas School of Pharmacy. The Deans Club reinforces the important role of annual giving to the ongoing strength and success of the Department of Pharmacology & Toxicology. By honoring donors who give $1,000 or more in a single fiscal year, the Deans Club encourages the leadership-level annual support that forms the basis of our continued achievements. Gifts to any fund or program within the department count toward recognition in the Deans Club.
For a lasting impact on the department, major gifts can establish endowed funds that can be named for you or for someone else and provide financial support in perpetuity.
Our development director, Beth Bucklin, will be happy to answer your questions and assist you in creating an endowed fund, setting up a planned gift or making another kind of gift. She can be reached at 785-832-7477 or email her at bbucklin@kuendowment.org. You can also use your credit card to give online to the funds listed below.
Speaking for the entire Department of Pharmacology & Toxicology family, I thank you for your investments in our faculty, students and programs.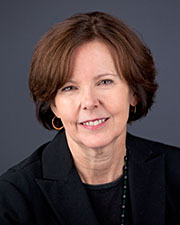 Sincerely,
Nancy A. Muma
Chair, Department of Pharmacology & Toxicology