PharmTox Newsletter Fall 2020
---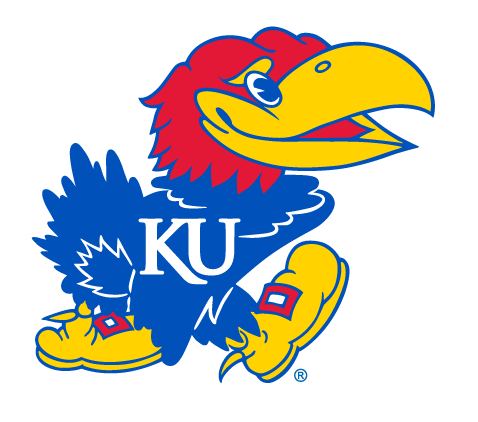 Note from the Chair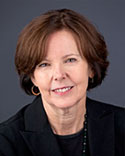 Like all of you, we have faced our share of challenges this year. Covid-19 warnings and subsequent shutdowns came at us quickly while KU students were on spring break. The University extended the break by one extra week to allow everyone to prepare for exclusively online instruction. It was a fairly simple transition for those of us in the School of Pharmacy, as for the past several years, we have been teaching via video conferencing to pharmacy students on the Wichita campus. Having a departmental distance M.S. degree also helped prepare the faculty for teaching online to the on-campus graduate students.
One of the most challenging aspects for us was maintaining our research programs while being forced to reduce our laboratory work to that of essential-only. We remained at the essential-only level until May 29th, when we were able to initiate a limited re-opening.
The pandemic also had a major impact on our new international graduate students. They were faced with the choice of either working online from their home countries or delaying the beginning of the graduate program for one year.
All students, faculty, and staff on campus were screened for Covid-19 at the beginning of the fall semester. Courses for the fall semester have taken place both online and in person, with our graduate courses being delivered primarily online. The smaller class sizes have enabled us to have lively discussions, while leaving the in-person instruction to take place in the laboratories. We have been fortunate so far in that no one in the department who we know of has been symptomatic or infected, and we hope it stays that way.
For the past 25 years, the KU School of Pharmacy has ranked in the top 15 in the nation in National Institutes of Health funding and has been in the top 10 for the majority of those years. Recent faculty additions to the Department of Pharmacology and Toxicology will help the KU School of Pharmacy remain among the country's elite in terms of NIH grant funding as they bring with them well-established, NIH-funded projects. Dr. Heng Du joins us from the University of Texas and Dr. Zijun Wang from SUNY Buffalo. You can read more about them in this newsletter.
We hope you are all safe and staying well in these challenging times. We look forward to the day when we can reach out and invite you to visit us on campus again!
Cheers!
Nancy Muma
In Memoriam: Dr. Stephen Fowler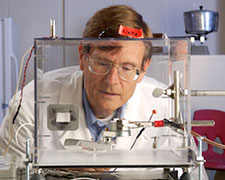 We are saddened to announce that Dr. Stephen Fowler passed away on June 15. Fowler came to KU from the University of Mississippi in 1994. He served as a professor of human development until 2000, when he became a professor in Pharmacology & Toxicology until his retirement in 2016.
He was a Senior Scientist with the Life Span Institute, where he anchored the behavioral neuroscience program during the 1990s and 2000s. While at KU, he was an integral member of the Kansas Intellectual and Developmental Disabilities Research Center. He also served as the president of the Division of Psychopharmacology and Substance Abuse of the American Psychological Association.
Fowler was known for his work in behavioral pharmacology, where he invented the Force Plate Actimeter, marketed by Bioanalytical Systems. His laboratory and collaborating laboratories used this instrument for research on rodent models of Parkinson's disease, Huntington's disease, ALS, ADHD, essential tremor, schizophrenia, Krabbe's disease, autism, and fragile X syndrome.
Fowler dedicated his life to research and educating future scientists. He mentored more than 40 doctoral students along with junior faculty members. Fowler is survived by his wife of more than 40 years, Doreen; daughter, Carina; and a younger sister, Michelle. He will be truly missed by many colleagues and friends.
Anonymous donation funds Ph.D. fellowship
An anonymous donation of $300,000 to the KU School of Pharmacy's Department of Pharmacology and Toxicology was inspired by the donor's niece and her experience as a Ph.D. student.
"I hope the gift will aid others who passionately devote their time and effort to vital scientific research," the donor said. "Students often face financial hardship, which has been compounded by the challenges of the ongoing pandemic."
Department Chair Nancy Muma said the money will be used to endow a Ph.D. fellowship and increase opportunities and access for future generations of research students.
"This generous donation will have a tremendous impact on our ability at KU to train pharmacologists to develop novel approaches to treat disease," Muma said.
The donor's niece studied under Professor Rick Dobrowsky. KU School of Pharmacy Dean Ronald Ragan said the donation is a direct result of the important research performed every day at the school and the lifelong relationships students build with their mentors.
"It's not often enough that we get a chance to celebrate the dedication and hard work of our research faculty," Ragan said. "This is a well-deserved honor for Rick and gives us a chance to talk about his dedication to science and to training the next generation of research scientists."
Dobrowsky expressed his gratitude to the donor for the generous gift and for her continued support of education.
"She has a history of contributing to programs that increase opportunities in the arts, sciences and athletics that promote a holistic development of elementary students." Dobrowsky said. "Her support for graduate education is an extension of her passion for increasing student success."
Welcoming Our New Faculty Members
Heng Du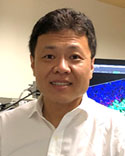 We would like to welcome Associate Professor Heng Du to the Department of Pharmacology & Toxicology. Du was an assistant research professor in the Department of Pharmacology and Toxicology and KU's Higuchi Bioscience Research Center from 2011-2013. He moved to the University of Texas in the Department of Biological Sciences in 2013 as an assistant professor and was promoted to associate professor.
Heng is well-funded and brings with him a large group of researchers from Texas. Research members include Lan Guo, assistant research professor; Chunxiao Yu, postdoctoral researcher; and Feng Xue, postdoctoral researcher. Heng also brings graduate students Jing Tian, Hao Chen, Tienju Wang and Kun Jia. Heng is doing exciting research to understand the mechanisms involved in neurodegeneration in Alzheimer's disease to develop novel therapeutics. He will be an excellent complement to the department's and university's strengths in Alzheimer's disease research.
Zijun Wang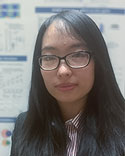 Dr. Zijun Wang joins the department as an assistant professor of pharmacology and toxicology. Wang earned a Bachelor of Science in Pharmacy from Jiangsu University in 2009 and a Ph.D. in Pharmacology from Peking University in 2014.
Wang was a post-doctoral fellow and Research Assistant Professor in the Physiology and Biophysics Department at State University of New York at Buffalo before coming to KU. Her research focuses on how brain reward pathways are influenced by the environment, especially stress and drug exposure and how maladaptation can lead to disease states.
As a pharmacologist, her long-term research goal is to develop novel pharmacotherapies for brain disorders with abnormal reward processing specifically drug addiction and autism, by focusing on the epigenetics and circuits mechanisms. She uses multidisciplinary approaches incorporating behaviors, pharmacology, molecular biology, confocal-imaging, electro physiology, virus-mediated gene transfer, bioinformatics, circuit mapping, chemogenetics, transgenic mice tools and in vivo calcium imaging. She is using these techniques to explore the pathophysiological basis underlying drug addiction and autism, and to discover novel therapeutic targets for these brain disorders.
Literature-based Distance Learning Program Off to Good Start
We are pleased to announce that the Literature-based Distance Learning Master's Degree program has been launched and two students are currently enrolled. This new program is aimed specifically at students who lack access to a laboratory for original research and are unable to relocate to the Lawrence campus. The program provides training in molecular, cellular and organ systems pharmacology and toxicology, along with scientific writing. It prepares participants with advanced training for academic and professional advancement. Dr. Rick Dobrowsky is the Distance Learning Program Director.
Handling of the COVID-19 Pandemic
The year 2020 has proven to be one of the most challenging years any of us have ever experienced. The Department of Pharmacology & Toxicology along with the entire KU campus began making changes to our normal activity beginning in March. Spring break was extended by one week and students were strongly discouraged from returning to campus. Classes began remotely for the remainder of the Spring 2020 semester and a majority of the KU faculty and staff started working remotely beginning on March 23rd. Research was handled remotely if possible but lab work was still being conducted on campus.
In lieu of the traditional walk down Campanile Hill and graduation, an online tribute to the Class of 2020 was held on May 17th. The fall semester began on August 24th and classes are being conducted on campus with reduced on-campus classroom attendance and remote online attendance. There was no Labor Day holiday or Fall Break. Classes will conclude before Thanksgiving with students encouraged to leave campus for the semester. After Thanksgiving, there will be a study week, followed by a week of final exams to be conducted remotely.
The Spring 2021 semester will begin on February 1 rather than January 19 as originally scheduled. Spring break won't occur in March as it typically does but is being added to the Winter Recess. Social distancing is required along with the wearing of masks. A computer application (CVKey) was designed which allows access to campus buildings and each member of the KU community conducts a self-assessment of their health and COVID exposure on a daily basis.
The IT department has been amazing, making it possible for everyone to take classes, teach, and work remotely. The Jayhawk community has done a wonderful job staying on top of all the changes due to COVID-19 and keeping everyone safe. Kudos to all!
Graduating Student Updates
We were proud to have two Ph.D. students graduate since the last issue of our newsletter.

Mohammed Almutairi
Mohammed graduated with his Ph.D. from the Pharmacology and Toxicology program this past summer, with Honglian Shi as his advisor. He returned home to Saudi Arabia and is working as an assistant professor at King Saud University in Riyadh. It is one of the top regional schools in Saudi Arabia. He will teach and perform research in the Pharmacology and Toxicology Department.

Khushboo Kapadia
Khushboo earned her Ph.D. in September in the Pharmacology and Toxicology program under the direction of Nancy Muma. Khushboo is currently exploring opportunities both in the industry and in academia.
Graduate Student Updates

Oliver L'Esperance
Oliver L'Esperance, Ph.D. student, passed his Candidacy Oral Comprehensive Exam.

Punam Rawal
Punam Rawal passed her Ph.D. candidacy oral comprehensive exam with honors.

Maria Tickerhoof
Doctoral student Maria Tickerhoof published the following two articles:
Cymerblit-Sabba A, Smith AS, Williams-Avram SK, Stackmann M, Korgan AC, Tickerhoof MC, and Young WS (2020). Inducing partner preference in mice by chemogenetic stimulation of CA2 hippocampal subfield. Front Mol Neurosci 13:61. doi: 10.3389/fnmol.2020.00061.
Tickerhoof MC, Hale LH, Butler MJ, and Smith AS (2020). Regulation of defeat-induced social avoidance by medial amygdala DRD1 in male and female prairie voles. Psychoneuroendocrinol 113:104542. doi: 10.1016/j.psyneuen.2019.104542.
Maria presented at the Society for Neuroscience as part of a Nanosymposium for the society's annual international conference in Chicago in October 2019. The presentation was titled, Sex differences in effects of treatment with oxytocin or selective serotonin reuptake inhibitor on behavioral phenotype and receptor expression in socially defeated prairie voles.
Maria presented a seminar at the University of Kansas School of Pharmacy Mossberg Honors Symposium in January 2020 and earned the Mossberg Honors Symposium Graduate Student Presentation Award. Her presentation title was, Social defeat has sex-dependent effects on pair bond formation in prairie voles.

Xin Zhang
Doctoral student Xin Zhang presented a poster titled "ApoE2 mediated neuroprotective mechanism through regulation of glycolysis" at the 2019 Society of Neuroscience Conference (SfN19) held in Chicago, Illinois in October 2019.
New Graduate Students

Julia Doderer
Julia joins our Ph.D. program this fall. She graduated from KU in May 2019 with a Bachelor of Science in Biology. Since graduation, Julia has worked at Lawrence Memorial Hospital as a Physical Therapy Aide. She comes to us with additional clinical experience as a Certified Nurse Aide working with the memory care of patients and volunteering in the community working with individuals with developmental disabilities and children with ODD and ADHD. She looks forward to understanding physiological processes and pathologies, learning about treatments, and finding opportunities to be involved in patient care.

Kun Jia
Kun Jia joins our Ph.D. program this fall. She graduated with a Bachelor of Science in Clinical Medicine in June, 2016 and a Master of Neurology in July, 2019. Both degrees are from the Cheeloo College of Medicine at Shandong University in Jinan, China. Kun's interest in neurology began when she did a rotation in the neurology department as an intern, where she was especially interested in general neurology and neurodegenerative diseases. She became very interested in research during her lab classes and joined a lab in pathology. During her master's program she focused on mitochondria mechanisms of Alzheimer's disease.

Lina Nerio
Lina Karina Nerio Morales is a Fulbright scholar from Bogota, Colombia and is joining our master's program. Lina received her Bachelor of Pharmacy degree from the Universidad Nacional De Colombia in Bogota, Colombia. She became interested in natural products at an early age and hopes to pursue this interest in the field of neuropharmacology of natural products.

Sugandha
Sugandha joined our Ph.D. program after receiving her master's degree at KU while working in Nancy Muma's lab. She received her Bachelor of Pharmacy degree at the University Institute of Pharmaceutical Science at Panjab University in Chandigarh, India. As a child she became inquisitive toward drugs and the chemistry behind them. Sugandha hopes to help discover a drug that might someday save lives.

Shuwen Yue
Shuwen Yue comes to our Ph.D. program from Beijing, China. She holds both a Bachelor of Science in Pharmaceutical Administration and Master of Pharmacology from China Pharmaceutical University in Nanjing, China. Neuropharmacology is an area of interest to her, and she hopes to study the complex interplay of genes, proteins, and biological processes that drive the development of neurodegenerative diseases.

Tienju Wang
Tienju (T.J.) joined our Ph.D. program in August. She received her Bachelor of Science in Biology in December, 2017 and a Master of Biotechnology in May, 2019, both from the University of Texas at Dallas, Richardson, Texas. Tienju has always wanted to help people which led her to a biology/pre-med academic path. This seemed the most straightforward approach, but Tienju soon discovered that there were other options open to her. She hopes to apply the life lessons she has learned to further drug research in hopes that she can play a part in preventing others from dying.
Follow KU PharmTox on Social Media
We are now on Twitter and Instagram. Follow us to stay up to date on all the latest KU PharmTox news.
From Our Alumni - Sarah (Woody) Henning, Ph.D. (2017)
Scientist at Citoxlab in Stilwell, Kansas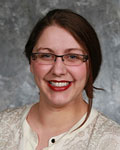 I began my education in the Department of Pharmacology & Toxicology in 2011 with a background in general biology and an interest in drug development. I joined Jeff Staudinger's lab, where I focused my research efforts on understanding the molecular mechanism(s) underlying nuclear receptor-mediated suppression of the inflammatory system in chronic enterohepatic disorders. In 2014, I left Dr. Staudinger's lab and joined Dr. Liqin Zhao's research team, where I studied the molecular role of the protein Clusterin in the pre-clinical development of Late-Onset Alzheimer's Disease.
Following the completion of my graduate studies and a temporary postdoctoral position within Dr. Zhao's lab, I left KU and began my professional career at a US-based contract research organization (CRO) called MRIGlobal. As a Scientist in the Medical Countermeasures Division, I had the opportunity to work on Department of Defense-funded contracts with the sole purpose of testing the efficacy of potential medical countermeasures for injuries received from chemical and biological warfare agents. The work was immensely rewarding, and I dedicated myself to it whole-heartedly. I learned as much as possible about government contracts, industrial research, the role of a study director, and the federal regulations that must be adhered to in industry. I represented MRIGlobal at professional meetings, interacted with professional clients, and generated an actual professional network. However, after a year with the company, I was placed on employment furlough due to financial strains within the company. One month into the furlough period, I made the decision to look elsewhere for employment. Using my professional network, I reached out and was offered a position as a scientist in the toxicology department at an international CRO called Citoxlab which had just been acquired by Charles River Laboratories. At Citoxlab USA in Stilwell, I excelled. Based on my performance and abilities, I became the site functional lead for multiple key programs and directed numerous non-GLP and GLP Toxicology and Pharmacokinetics studies for several national and international clients, including pre-clinical toxicology studies for potential COVID-19 therapeutics. I further developed my professional network and worked tirelessly to provide excellent client service which resulted in 100% positive client feedback. However, in April of 2020, Charles River Laboratories announced that the site would close permanently in October of 2020, resulting in yet another job search for me.
So why do I share these stories with you? Since leaving KU in 2018, I have been placed on furlough from one company and faced the complete shutdown of my site at another company, forcing me to job hunt each year since obtaining my doctorate; not exactly what young graduate students want to hear. I tell you these things because the lessons that I learned in my graduate training have helped me to succeed in ways I could not imagine; and it is those lessons that I would like to share with you.
Resilience: Restarting my dissertation in the latter half of my graduate training was immensely difficult, stressful, and often overwhelming. However, the challenge taught me to never give up, never stop working hard, and to always remain positive in spite of the circumstances life throws your way. In the industrial arena, shutdowns, buyouts, and site closures are not uncommon. In addition, not every client and co-worker you meet will be pleasant to work with. Therefore, it is absolutely essential that you develop and maintain a thick skin and a positive and professional attitude despite what the day throws your way.
Maintain a positive reputation: There are people that I met during my time at KU, professor and student alike, that I did not get along with and did not maintain a great relationship with. This is not something you should do as a professional. I can personally attest to you that your professional reputation and network will aid you, or in some cases hinder you, more than you can possibly understand. I did not actually apply for my current job and have already been offered a position by another company after October. This is because I have worked unceasingly to create a positive, team-based, and professional reputation within my professional network. Trust me, it may feel good at the time to vent the frustration that you feel towards a co-worker or employer, however, you never know how those people will impact your future career. The scientific community is a small one, so take the high road and don't burn bridges.
Develop your soft skills: Having to completely change from enterohepatic toxicology to Alzheimer's disease within a month required organization, time-management, and dedication to efficiency. One of the biggest issues that we are faced with in industry is that nothing is ever done fast enough. Therefore, deadlines are not flexible and if they are not met, there are financial, professional, and personal repercussions, not only for you, but for your company. You will find in your future career that being able to manage time efficiently and maintain a high level of organization will be instrumental to meeting corporate deadlines. It was not my doctorate that resulted in management asking me to take over four director-level scientific processes. These advancements and leadership opportunities came my way because I consistently demonstrated my ability to maintain a high level of organization and professionalism while meeting simultaneous deadlines.
Be adaptable: When I was studying the liver, I swore I would never study the brain. Boy was I wrong! I not only grew to love the field of neuroscience, I was intrigued by it and remain that way to this day. Often in industry, you will be hired on for one position but that position and what you are asked to do will change dramatically, sometimes from day-to-day. Remain adaptable and willing to branch out from your comfort zone. Take initiative and try new things!
I hope that this information will help you as you pursue the next step in your career. Even if you don't feel this way, your education at KU within the Department of Pharmacology and Toxicology will teach you more than you realize and I am proud to be a graduate of this academic program!
Sarah (Woody) Henning
From Our Alumni - Yue "Alvin" Deng, M.S. (2017)
Ph.D. student at the University of Iowa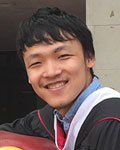 It was a late afternoon during my orientation, the third day after arriving in the US, I stepped out my temporary dormitory, Naismith Hall, and wandered around the quiet campus. Walking by Allen Field House, going uphill along Jayhawk Boulevard, leaning against the Campanile, and watching golden sunset showering Potter Lake, I felt that it was a good decision to be at KU. Once I got a time machine, I would go back to that day and tell myself, "hey buddy, your feeling is absolutely right."
I received my B.S. in pharmacy in 2014, followed by a one-year post-bacc on a neurodegeneration-related project. At that time, I did have some interest in scientific research, but I was not sure enough whether a Ph.D. degree and a research-based career were really what I wanted. My mentor, Dr. Yan Cheng, suggested that I could look for some thesis-based master programs to build up my background knowledge and have a true experience conducting research projects independently, and that was how I got to know KU P&TX. Not too long after receiving a Skype call from Dr. Honglian Shi for an interview, I found myself on the flight from China to the US for the first time of my life.
Soon after I joined Dr. Jackob Moskovitz's lab, I realized that I was still far from "understanding" scientific research. I did not know how to run a western blot. I did not know what cre-lox was. I did not know how to write a specific aim page. With great patience, Jackob walked me through the project background and nearly every single experimental technique. Under his mentorship, I was exposed to projects related to methionine sulfoxide reductase A (msrA) that consist of both basic molecular research and clinical study. We explored a non-canonical function of msrA and how it could affect protein aggregation and degradation, which led to a research article and the major part of my thesis. On the other hand, the P&TX department provided a strong curriculum not only on pharmacology/molecular biology textbook knowledge, but also on how to think critically, write logically, and design my research independently.
During those two years in P&TX, I developed a strong interest in continuing my career as a researcher. After graduation, I was admitted to the Ph.D. program in the Department of Neuroscience & Pharmacology at the University of Iowa. There is no doubt that my previous experience at KU P&TX helped me a lot during my application as well as later study. After rotations, I joined Dr. Huxing Cui's lab with a main research interest in understanding the neural circuits and intraneuronal signaling affecting metabolic homeostasis. Now I'm working on my dissertation project, which focuses on the role of hypothalamic RGS2 (regulator of G protein signaling 2) in the modulation of body energy balance. Even though I am exploring a totally different field from my master's study, the principles of science that I learned from P&TX would always leave me prepared.
P&TX is an open and friendly community, and life in P&TX is much more than just bench work. The faculty are supportive, and I could feel how much they care about their students. During the second year, I met with Dr. Shi and Dr. Nancy Muma multiple times and got useful suggestions about my graduation, Ph.D. application, and long-term career planning. I also met many brilliant fellow students in P&TX. I still remember when we stayed up all night for a statistics exam, we celebrated Halloween with a costume party, and we hung out at the Burger Stand on a normal peaceful weekend… I spent only two years in KU P&TX, but all these bonds and memories will last much longer after that.
2020 is a special year, I hope everyone stays safe and optimistic. Our world is changing quickly, but I believe KU P&TX will stay strong and guide more young people like me into the hall of science.
Yue "Alvin" Deng
2020 Gibbs Graduate Student Award Recipient

Dr. Lester Gibbs was scheduled to return to KU last spring to present the 2020 Gibbs Graduate Student Award to Yssa Rodriguez (shown here), a student in Dr. Rick Dobrowsky's lab. Due to the COVID-19 pandemic, Dr. Gibbs was not able to come.
The Gibbs Graduate Student Award funds travel to scientific symposia and/or conferences for one outstanding senior graduate student in the department. This experience allows our graduate students to kick start their scientific careers and network with colleagues elsewhere in academia and industry. Dr. Gibbs earned an M.S. degree in 1987 and a Ph.D. in 1989 from the KU Department of Pharmacology & Toxicology.
Since graduation Dr. Gibbs has worked in regulatory affairs for Penederm, Inc., Forest Laboratories, Wyeth, Morphotek, Inc., Actelion Clinical Research, Regulatory Affairs Consulting, and Inovio Pharmaceuticals, Inc. He currently works for Complexa, Inc. as the Senior Director, Regulatory Affairs. We hope to have Dr. Gibbs return to KU to publicly present the award.
Beyond the Lab Series
Our Beyond the Lab program provides our students, postdocs, and other research professionals in the Department and the School an opportunity to expand their knowledge of career opportunities and advancement. The series is temporarily paused due to the Covid-19 pandemic. We would like to invite our alumni to consider returning to campus as part of the Beyond the Lab program in the future. Please contact either Nancy Muma at nmuma@ku.edu, Department Chair, or Liqin Zhao at lzhao@ku.edu, Director of the Beyond the Lab program.
Scientific Seminar Series
The KU Department of Pharmacology and Toxicology's Scientific Seminar Series features prominent researchers from KU, the United States, and the world. Due to the Covid-19 pandemic we have temporarily paused the series.
2020 Speaker:

Marie-Eve Tremblay, Ph.D.
Canada Research Chair (Tier 2) in Neuroimmunity Plasticity in Health and Therapy, researcher within the Neurosciences Axis of the CRCHU de Quebec-Laval University, and Assistant Professor in Laval University's Department of Molecular Medicine
"Dark Microglia: Remodeling Neuronal Circuits in Health and Disease"
March 16, 2020
Recent Faculty Publications
Discovery of sultam-containing small molecule disruptors of the huntingtin–calmodulin protein–protein interaction.
Klaus NJ, Kapadia K, McDonald P, Roy A, Frankowsky KJ, Muma, NA*, Aubé*, *co-senior authors. Medicinal Chemistry Research, 29: 1187-1198, 2020.
Clusterin: A Multifaceted Protein in the Brain.
Moon, H-J., Herring, SK, Zhao, L*. Neural Regener Res 2020 (in press).
Modulation of OSCP mitigates mitochondrial and synaptic deficits in a mouse model of Alzheimer's pathology.
Gauba E, Sui S, Tian J, Driskill C, Jia K, Yu C, Rughwani T, Wang Q, Kroener S, Guo L*, Du H*. Neurobiology of Aging. In Press.
Expression of Hypoxia Inducible Factor 1alpha Is Protein Kinase A-dependent in Primary Cortical Astrocytes Exposed to Severe Hypoxia.
Ramamoorthy P, Xu G, Shi H. Neurochem Res., 44: 258-268, 2019.
The Antioxidant Enzyme Methionine Sulfoxide Reductase A (MsrA) Interacts with Jab1/CSN5 and Regulates Its Function.
Jiang B, Adams Z, Moonah S, Shi H, Maupin-Furlow J, Moskovitz J. Antioxidants (Basel), 9: 452, 2020.
Neuroadaptations in the dorsal hippocampus underlie cocaine seeking during prolonged abstinence.
Werner CT, Mitra S, Auerbach BD, Wang Z, Martin JA, Stewart AF, Gobira PH, Iida M, An C, Cobb MM, Caccamise A, Salvi RJ, Neve RL, Gancarz AM, Dietz DM. Proc Natl Acad Sci U S A, 117: 26460-26469, 2020.
Noninvasive Brain Delivery and Efficacy of BDNF to Stimulate Neuroregeneration and Suppression of Disease Relapse in EAE Mice.
Kopec BM, Kiptoo P, Zhao L, Rosa-Molinar E, Siahaan TJ. Mol Pharm, 17: 404-416, 2020.
Double deletion of PINK1 and Parkin impairs hepatic mitophagy and exacerbates acetaminophen-induced liver injury in mice.
Wang H, Ni HM, Chao X, Ma X, Rodriguez YA, Chavan H, Wang S, Krishnamurthy P, Dobrowsky R, Xu DX, Jaeschke H, Ding WX. Redox Biol, 22: 101148, 2019.
Regulation of defeat-induced social avoidance by medial amygdala DRD1 in male and female prairie voles.
Tickerhoof MC, Hale LH, Butler MJ, Smith AS. Psychoneuroendocrinology, 113: 104542, 2020.
Lab/Faculty Spotlights
Rick Dobrowsky Receives NIH Innovation Grant
We are pleased to announce that Dr. Rick Dobrowsky's lab was awarded an Innovation Grant to Nurture Initial Translational Efforts (IGNITE) from the NIH to investigate the potential use of KU-596 as a treatment for the peripheral neuropathy associated with the inherited genetic disease, Charcot-Marie-Tooth 1X.
Jai Subramanian Earns NIH Supplemental Funding
The Subramanian lab received NIH supplemental funding ($250,000) to set up three-photon imaging. Three-photon imaging is a state-of-the-art microscopy technique that allows the lab to image neurons in deep brain structures.
Jim Tracy to Serve on NIH Scientific and Technical Advisory Board to the Office of the Director (STOD)
We are pleased to announce that Professor Jim Tracy was selected to serve a term on the Scientific and Technical Advisory Board to the Office of the Director (STOD), National Institutes of Health. STOD reviews and advises the Director on proposed extramural building projects, including research laboratories and animal facilities. Congratulations, Dr. Tracy.
Liqin Zhao's Alzheimer Research Featured in AMA Journal
Dr. Liqin Zhao's research was featured in an article published in JAMA (The Journal of the American Medical Association) titled In Alzheimer Research, Glucose Metabolism Moves to Center Stage. Her publication, "ApoE2 and Alzheimer's Disease: Time to Take a Closer Look," in Neural Regeneration Research received a "High Altimetric Score Article" award. This year, Zhao also served on the NIH Neuroscience and Bioengineering Special Emphasis Panel and was an ad-hoc reviewer in the UK Alzheimer's Society Grant Program and Ireland Science Foundation Frontiers for the Future Awards Program. Zhao was chosen to serve on the University Faculty Senate Research Committee and chaired the Pharmacology & Toxicology Faculty Search Committee, which successfully recruited two new faculty members to the department.
Thank you for your interest in supporting the Department of Pharmacology & Toxicology
Private support allows the department to provide resources for students during the COVID-19 pandemic and continue the excellence you have come to expect from our department. Your support, regardless of size, can make a profound impact. Over time, even small donations can accumulate to create substantial resources for the department. For a lasting impact on the department, major gifts can establish endowed funds that can be named for you or for someone else and provide financial support in perpetuity.
To make a dontation, visit the KU PharmTox website or contact our development director, Beth Bucklin, at bbucklin@kuendowment.org or 785-864-7477.