Scientific Seminar Series
KU Department of Pharmacology and Toxicology's Scientific Seminar Series features prominent researchers from KU, the United States and the world.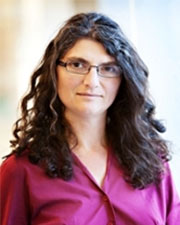 Anna Dunaevsky, Ph.D.
Professor
Developmental Neuroscience, Department of Neurological Sciences
University of Nebraska Medical Center, Omaha, NE
Neural dysfunction in Fragile X syndrome
| 4:00 p.m. (CST)
Zoom (email pharmtox@ku.edu for info)
Ram Madabhushi, Ph.D.
Assistant Professor
Psychiatry, Cell Biology, and Neuroscience
UT Southwestern Medical Center Dallas, TX
Untangling the roles of DNA topology and activity-induced DNA breaks in neuronal physiology
| 1:30 p.m. (CST)
School of Pharmacy, Room 1020
Past Seminars
Name/Organization
Seminar Title/Date
Anna Dunaevsky, Ph.D.
University of Nebraska Medical Center, Omaha NE
Neural dysfunction in Fragile X syndrome
October 29, 2021
Ram Madabhushi, Ph.D.
UT Southwestern Medical Center, Dallas TX
Untangling the roles of DNA topology and activity-induced DNA breaks in neuronal physiology
October 15, 2021
Charles Abrams, M.D., Ph.D.
University of Illinois at Chicago
 
May 14, 2020
Marie-Eve Tremblay, Ph.D.
CRCHU de Quebec-Laval University
Dark microglia: remodeling neuronal circuits in health and disease
March 16, 2020
Devanandi Manoli, M.D., Ph.D.
Center for Integrative Neuroscience University of California, San Francisco
Understanding the Neural Basis of Social Attachment
May 7, 2019
Eduardo Candelario-Jalil, Ph.D.
Dept. of Neuroscience, University of Florida
Neurovascular Protection by Adropin in Experimental Ischemic Stroke
April 30, 2019
Teruna Siahaan, Ph.D.
Pharmaceutical Chemistry, University of Kansas
Challenges and Progress of Delivering Molecules to the Brain
November 1, 2018
Mark R. Cookson, Ph.D.
NIH
Pathways to Parkinsonism
March 15, 2018
Partha Kasturi, Ph.D.
University of Kansas Medical Center
Mitochondrial transporter ABcb6: An Unexpected Journey Through Haem Synthesis, Mitochondrial Dynamics and Beyond
December 7, 2017
Xianglin Shi, Ph.D.
University of Kentucky College of Medicine
Mechanism of Cr(VI) Carcinogenesis and Prevention
November 9, 2017
Christopher Pittenger, M.D., Ph.D.
Yale University School of Medicine
Of Mice, Men, and Tics: Translational Studies of Tourette syndrome
January 27, 2017
Rong Chen, Ph.D.
Dept. of Physiology & Pharmacology, Wake Forest School of Medicine
RGS2: A New Modulator of Midbrain Dopamine D2 Receptor Signaling and Addiction Behavior
April 29, 2016
Ke Jian "Jim" Liu, Ph.D.
Brain Imaging Center at the University of New Mexico
Interruption of Zinc Finger Proteins and Arsenic Carcinogenesis
November 11, 2015
Caroline Blanchard, Ph.D.
Biosciences Center, University of Hawaii
Functional Approaches to Translation of Biobehavioral Systems
April 24, 2015
Nina Isoherranen, Ph.D.
Dept. of Pharmaceutics, University of Washington
Vitamin A and Retinoic Acid Homeostasis in Health and Disease: Role of ALDH1A and CYP26 Enzymes
Thursday, April 2, 2015
Michael Garcia, Ph.D.
Biological Sciences, University of Missouri-Columbia
Myelination of Peripheral Axons: It Takes a Village to Raise a Nerve
February 25, 2015
Liang-Jun Yat, Ph.D.
Dept. of Pharmaceutical Sciences, College of Pharmacy, University of North, Texas Health Science Center
Blue Native Gel Analysis of Mitochondrial Proteins: Two Enzymes for Two Deadly Diseases
March 12, 2014
Maureen Kane, Ph.D.
Pharmaceutical Sciences, Mass Spectronomy Center, University of Maryland School of Pharmacy
Use of Targeted Metabolomics to Probe Retinoid Metabolism
February 26, 2014
Irina G. Gazaryan, Ph.D.
Neurology & Neuroscience, Weill Cornell Medical College
Triggering of Antioxidant Program without Electrophilic Stress
October 16, 2013
Paul L. Prather, Ph.D.
Dept. of Pharmacology & Toxicology, College of Medicine, University of Arkansas for Medical Sciences
Synthetic Cannabinoids in K2/Spice: Not Just "Safe" Alternative Forms of Marijuana
September 18, 2013
Cibele Pinto, Ph.D.
University of Kansas Medical Center, Kidney Institute
cAMP Signaling in Polycystic Kidney Disease: The Role of Adenylyl Cyclases and Phosphodiesterases on AVP-Mediated Cyst Formation
May 8, 2013
Wen-Xing, Ph.D.
Dept. of Pharmacology, Toxicology & Therapeutics University of Kansas, Medical Center
Mitophagy and Mitochondrial Spheroids in Drug- Induced Liver Injury
April 24, 2013
Tony Passaniti, Ph.D.
Dept. of Pathology, Dept. of Biochemistry & Molecular Biology, Greenbaum Cancer Center
Angiogenesis and RUNX2-Specific Drug Discovery: Implications of Diabetes & Cancer
April 17, 2013
Cara Wellman, Ph.D.
Dept. of Psychological and Brain Sciences, Indiana University
Sweating the Small Stuff: Stress Effects on Corticolimbic Structure and Function
April 3, 2013
Dongsheng Cai, Ph.D.
Department of Molecular Pharmacology, Albert Einstein College of Medicine
Neuroinflammation and Obesity-Related Diseases
January 23, 2013
Stephen Keith Chapes, Ph.D., M.P.H.
Biology, Kansas State University
Understanding Host Resistance to Ehrlichia Chaffeensis: What do Bugs Have to Do with It?
May 2, 2012
Mark Yorek, Ph.D.
Internal Medicine, University of Iowa
Vascular Disease in Diabetic Neuropathy
April 11, 2012
Zhenyu Yue, Ph.D.
Department of Neurology & Neuroscience, Mount Sinai School of Medicine
Autophagy in Neurons and Neurodegeneration
March 7, 2012
Rick Allen Bevins, Ph.D.
Department of Psychology, University of Nebraska-Lincoln
The Nicotine Stimulus: A New Approach to Dis-entangling its Underlying Neuropharmacological Mechanisms
February 22, 2012
Heng Du, Ph.D.
Higuchi Biosciences Center, University of Kansas
Synaptic Mitochondrial Alterations Contribute to Synaptic Degeneration in Alzheimer's Disease
December 7, 2011
Nigel Calcutt
Pathology, University of California San Diego
Diabetic Peripheral Neuropathy: Is the Train of Pain Caused Mainly by the Brain?
April 20, 2011
Michal Toborek, Ph.D.
Department of Neurosurgery, Molecular Neuroscience and Vascular Biology Laboratory, University of Kentucky Medical Center
Breaking it Down: The Blood-brain Barrier in Cerbrovascular Toxicity of Environmental Pollutants
March 2, 2011
Stephen Fowler, Ph.D.
Dept. of Pharmacology & Toxicology, University of Kansas
Using Force-plate Actometers to Characterize the Movement Abnormalities of Huntington's Disease Model Mice and Rats: Behavioral Concomitants of Striatal
February 23, 2011