Adam Smith
---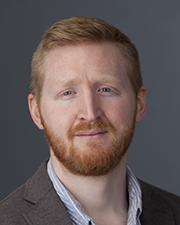 Department of Pharmacology & Toxicology
Contact Info
Malott Hall, Room 5040
1251 Wescoe Hall Drive
Lawrence, KS 66045
---
Biography
—
Adam Smith's research focuses on the neurobiological substrates of social behavior and stress.
Education
—
Postdoctoral Fellowship, Section of Neural Gene Expression, NIMH, 2016
Ph.D. in Neuroscience, Florida State University, 2013, Tallahassee, FL
M.A. in Psychology, University of Nebraska at Omaha, 2009, Omaha, NE
B.S. in Psychology, University of Nebraska at Omaha, Omaha, NE
Research
—
Adam Smith's doctoral research discovered a local circuit in the paraventricular nucleus of the hypothalamus responsive to environmental stress and social interaction and modulated by the neuropeptide oxytocin. Dr. Smith then completed a postdoctoral fellowship at the National Institute of Mental Health. He joined the University of Kansas in 2016 where he has studied the function of neuropeptide circuits in social behavior and stress. The Smith Lab studies the neuroscience of social attachment by exploring the natural ecology of the socially monogamous prairie vole to identify the mechanisms underlying pair bond formation, social buffering, consoling behavior, and social loss.
Students in his lab learn techniques in neuroscience, genetics, pharmacology, bioanalytics and animal behavior.